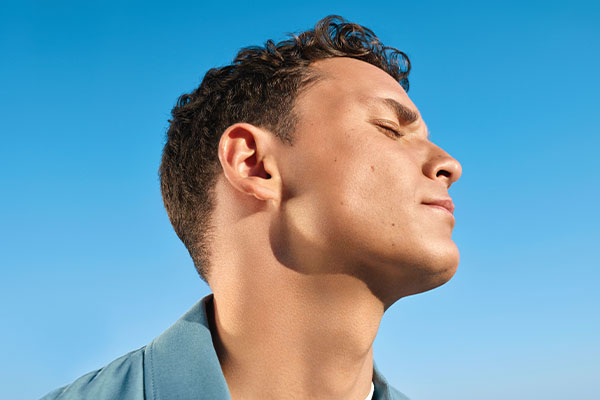 HOW TO CARE FOR FACE SKIN FOR MEN?
Are you wondering what aftershave to buy for your skin? Biotherm has the best aftershave, after shave lotion, after shave moisturizer, and more for your skin! Discover your new favourite men's aftershave today and get your most comfortable post-shave skin ever - we promise!
What is the Best Aftershave Balm?
There is no denying how important the best men's aftershave lotion is to have in a man's grooming routine. Aftershave cream helps give you a better shaving experience. It is important to find the right after shave moisturizer for your skin though which is why we have created different aftershave brands to give your skin just what it needs. We have aftershave to help razor bumps, aftershave to prevent ingrown hairs, aftershave for older men, and even aftershave for sensitive skin. We'll talk you through the best after shave lotion for you and show you how to apply aftershave.

How to Choose the Best Men's Aftershave for My Skin?

When it comes to learning how to apply aftershave cream, it is important to know how to choose the best aftershave lotion for your skin. We have aftershave to help razor bumps, aftershave to prevent ingrown hairs, aftershave for older men, and even aftershave for sensitive skin, so knowing your skin will help you determine which one of our aftershave brands is going to be best suited for you.

Our Aquapower Lotion makes for an invigorating and hydrating post-shave experience for all skin types! It does an amazing job hydrating your skin and it also works to improve your skin's appearance after the effects of a razor. Not only that, but you will love the instantly refreshing and soothing sensation this aftershave moisturizer leaves on your skin! Our SOOTHING AND NOURISHING AFTER-SHAVE is the best after shave lotion to fight against skin discomfort and shaving sensations. The formula contains moisturizing agents and safflower oil to help comfort and soften your skin. As soon as this aftershave comes into contact with your skin it immediately soothes razor burn. You will love how smooth and supple this one makes your skin feel! We also have our Ultra Comfort Moisturizing Balm Soothing Aftershave. This one is the first ever balm with Cashmere Technology to soften your skin. Our moisturizing and soothing aftershave balm was specifically created to protect your skin against the discomfort and sensitivity that comes with shaving, making it one of the best aftershave balms. After using it, your skin feels fresh, supple, and soft!

No matter what your skin type is or what your skin concerns are, we have the perfect aftershave lotion for you. Shaving can be hard on your skin which is why it is so important to protect it. Aftershave lotion is such an easy way to soothe your skin and protect it from aggravation at the same time. Shaving no longer has to be a painful experience thanks to our incredible aftershave formulas! Which one will you add to your grooming routine?