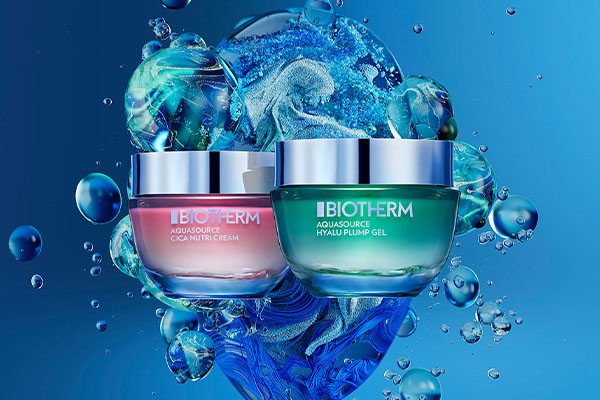 MOISTURIZERS FOR WOMEN
Discover the healing power of Life Plankton, infused in our range of safe and gentle Biotherm face moisturizers for hydrated and renewed skin.
Face Moisturizers: Cream, Serum & Balm
How to moisturize your face
Applying a Serum before moisturizing with a face moisturizer in the morning and a night cream at night will result in glowing skin. A face serum is good for deeper hydration. A gel moisturizer will work for oily skin prone to acne breakouts. A moisturizer for sensitive skin that is free of fragrances will prevent skin irritation. A face moisturizer for combination skin such as Biotherm's Aquasource Gel moisturizer, will help combination/oily skin stay matte during warmer temperatures. While a deep-hydrating serum such as Aquasource Aura Concentrate is perfect for dry or extremely dry skin during, especially during colder months.
Can I use lotion instead of a moisturizer
No. Since most lotions do not offer long lasting hydration and contain fragrances and preservatives that could irritate skin, it is recommended to use a moisturizer instead. Opt for a moisturizer for sensitive skin like Biotherm's Life Plankton Sensitive Balm. Choose a face moisturizer made for your skin type instead of a lotion that will not give you the benefits you want. If you want to even out skin tone, a tinted moisturizer is key. If you are looking for light moisture during those humid summer months, pick a gel moisturizer with a lightweight formula.
How to choose the right moisturizer for your skin
All face moisturizers focus on different skin concerns whether it be a face moisturizer for combination (i.e., skin that deals with both dry and oily skin areas) or a moisturizer for dry skin that contains moisturizing ingredients to prevent dry patches on the face. A face serum like Aquasource Aura Concentrate will also better hydrate dry skin and extremely dry skin types. A moisturizer for sensitive skin that is free of fragrances will prevent irritation. Gel moisturizers are perfect in more humid conditions while a tinted moisturizer like Biotherm's Aquasource BB Cream will help cover blemishes.