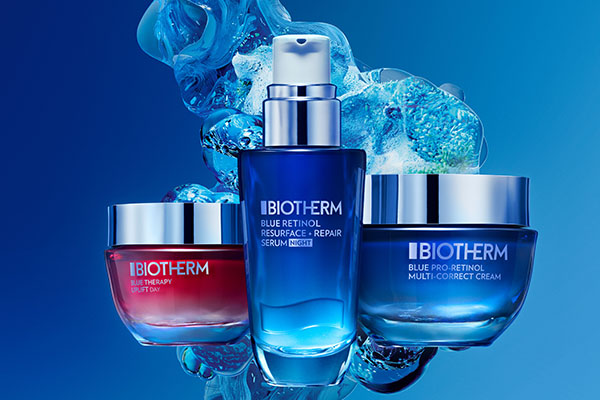 REPAIR SIGNS OF AGING
Anti-wrinkle & anti-aging products designed to reduce fine lines and deeper furrows, with the healing power of life plankton. Reduce visible signs of aging with our anti-aging creams, moisturizers and serums, everything you need for your skin care routine.
When to use anti-aging products?
Starting in your late 20s, you can begin using anti-aging products for first signs of aging, like Biotherm's Blue Pro-Retinol Multi-Correct Cream for concerns such as fine wrinkles around the eye area. Anti wrinkle products contain the moisture and firming ingredients that will help skin stay youthful. At the age of 40 and above, stronger anti aging products are needed. Biotherm's Blue Therapy Uplift Firming Cream is an anti-wrinkle cream that will firm the skin, lift the skin and help reduce the look of deep wrinkles. For added defense against wrinkles, apply your best anti-aging serum such as Life Plankton™ Elixir anti-aging serum with Vitamin C before using your best anti-aging cream to further diminish the look of fine lines and to give your skin extra nutrition.
How to prevent aging skin?
The best way to prevent wrinkles is to hydrate and bring skin back to its youthful glory. The best anti-aging serum would be a serum with Hyaluronic acid or a serum with Vitamin C. Our Life Plankton™ Elixir anti-aging serum with Vitamin C is an anti aging serum from a new generation of serum, designed to both regenerate your skin and bring back your best glowing skin, as it is both a Vitamin C serum & hyaluronic acid serum. Another super ingredient to be used is retinol, found in an anti aging cream with retinol. This anti aging ingredient can be found in Biotherm's Blue Pro-Retinol Multi-Correct Cream, along with Algae of Youth™ and Life Plankton™. Algae helps stimulate new skin cell production while Life Plankton™ aids in skin repair. These ingredients all together will help to prevent wrinkles, and reduce the look of eye wrinkles and forehead wrinkles.
What is the best facial moisturizer for aging skin?
For pesky forehead wrinkles, the best anti aging cream should contain hydrating ingredients such as Life Plankton™ and Algae of Youth™. These can be found in Biotherm's Blue Therapy line, that helps boost the skin's natural radiance while firming skin to reduce the look of wrinkles. Using the Best anti aging products, such as anti aging serums and creams should focus on diminishing all signs of aging. The same rules apply for eye wrinkle creams to reduce the look of under eye wrinkles.