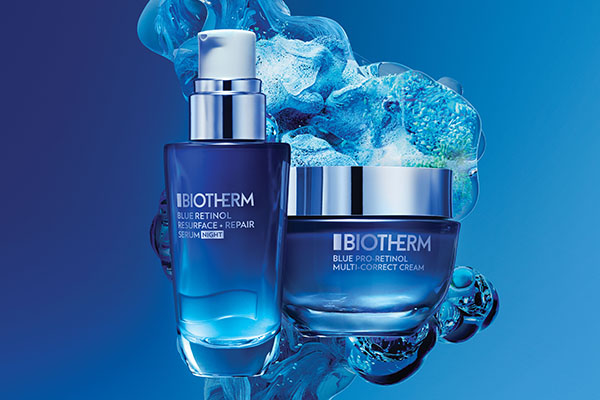 BLUE RETINOL COLLECTION
Feel the power of multi-corrective retinol with Biotherm's NEW Blue Retinol Collection, consisting of anti aging skincare products to keep the skin youthful. Discover the range of anti-aging and resurfacing Blue Retinol creams and serums.
ANTI AGING: WHY YOU SHOULD USE PRO-RETINOL
Discover Biotherm's Blue Pro-Retinol collection. Each product contains pro-retinol, a retinol derivative that accelerates skin cell regeneration and has a daily resurfacing action to correct wrinkles, skin texture and tone. All products also include Biotherm's unique regenerating ingredient, Life Plankton™ probiotics.
When to Use An Anti Aging Product with Pro-Retinol?
It is suggested that you start using anti aging products in your late 20s. For starters, Biotherm's Blue Pro-Retinol Multi-Correct Cream can be used to tackle signs of aging and under eye wrinkles at an early age. Anti aging creams and serums contain the moisture and firming ingredients that will help your skin stay youthful and plump. Starting at the age of 40, stronger anti aging treatments are needed for mature skin, such as Biotherm's Blue Therapy Uplift Anti-Aging moisturizer with collagen peptide. It firms and plumps the skin, while reduces deep face wrinkles. For added defense against wrinkles, apply your best anti aging serum such as Blue Therapy Accelerated Serum before using your best anti aging cream to further diminish the look of fine lines and to give your skin extra nutrition.