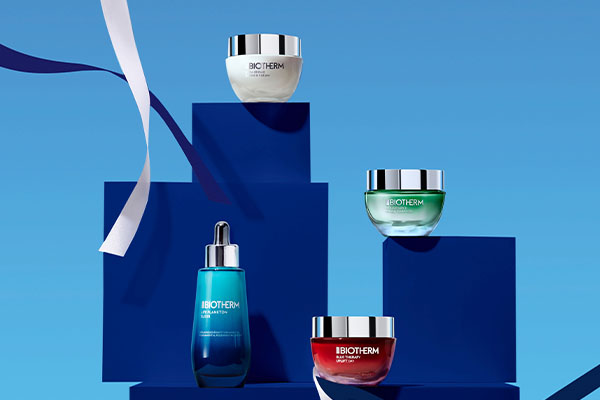 HOW TO TAKE CARE OF OILY SKIN?
What is the best facial cleanser for oily skin? Biotherm has got the best hydrating gel for oily skin and the best moisturizing cream for acne prone skin! Discover your new favourite hydrating cream for acne prone skin today!
How do I take care of oily skin?
HOW TO TAKE CARE OF OILY SKIN
Oily skin is actually the most common skin type in people ages 15-20. Even after that, a lot of people still have oily skin. Excess oils can be a pain, but it's not all bad. Those with oily skin will likely look younger longer, which is a nice bonus. That being said, dealing with excess oils on a daily basis can be frustrating; but, with the right products, you can help balance your skin and keep those excess oils at bay!
Start off by cleansing
Cleansing your skin twice a day will help remove any pollutants, bacteria, and excess oil. Our Biosource Cleansing gel will help you achieve healthy looking, matte skin in no time! It diminishes shine, refines your skin's texture, and reduces impurities all while feeling gentle on your skin!
Follow up with a toner
Using a toner will help balance your skin's pH and clear your skin of any oil or bacteria that was left behind after cleansing. Our matching Purefect Skin Toner will give your skin a matte, shine-free finish. The formula reduces impurities, tightens pores, refines texture, and purifies the skin. You'll love how fresh and clean your skin feels after using this!
Moisturize
It's a common misconception that people with oily skin don't need to moisturize their skin as much as those with dry skin. While oily skin types don't need super rich moisturizers the way those with dry skin do, they still need to be hydrating their skin! Our Purefect Skin Hydrating Gel gives you the freshness and hydration of a moisturizer with the finish of a mattifying powder with 8 hour shine control! This hydrating gel reduces impurities, refines your skin's texture, reduces the appearance of pores, and reduces the look of shiny skin so you're left with clean, purified skin!
Taking care of oily skin is really no different than taking care of any other skin type. You just have to know which products to look for and stick with it! Which products will you be adding to your skincare regimen?