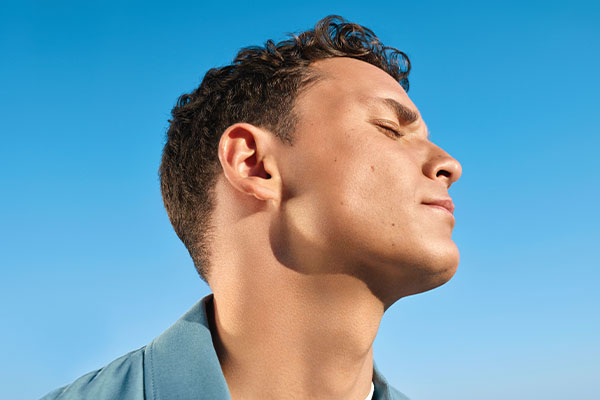 WHICH FACE CREAM IS GOOD FOR MEN?
Biotherm has the best face cream for men. Discover which face cream is good for men face and find your favourite today! From the best face moisturizer for men to best eye cream for men, we have everything your skin needs!
What is the Best Face Cream for Men?
Face moisturizer for men is an essential step in every man's skincare routine. A good moisturizer for men will help soothe and hydrate your skin for an improved overall feel and look. They work well as a final step in your men's skin care using toner to rehydrate your skin after cleansing and purifying it. If you're looking for the best face moisturizer for men, look no further than our Aquapower Collection! This collection features 6 of the best moisturizer for men. From the best face cream for men to the best eye cream for men and the best anti aging cream for men, this range has everything your skin needs to feel hydrated and comfortable. Face cream for men in the summer is more common, but you actually need to be using one year round; so here is a look at our Aquapower Collection:
How to Choose the Best Face Moisturizer for Men?
Establishing a skincare routine is important and a good moisturizer is the perfect final step. When your routine includes men's skincare using toner, it is especially important to follow up with the best moisturizer for men as toners can be a bit drying on your skin.

As world's Best selling moisturizer for Men, our Aquapower Moisturizer is the perfect choice if you have normal or combination skin. Our formula is super moisturizing as it tones your skin at the same time. This face cream for men also leaves your skin feeling soft and supple throughout the day too. You will love how the refreshing gel texture feels on your skin as you apply it too.

Our Aquapower 72H Concentrated Glacial Hydrator is the best face moisturizer for men with dry skin. It locks in moisture for up to 72 hours andhelps prevent your skin from drying out. Not only that, but this moisturizer for men protects your skin against external aggressors such as pollution, humidity, and heat, making it one of the best anti aging cream for men!

And, last but certainly not least, you don't want to forget about your eyes! For that we have ourAquasource Eye De-Puffer. This eye cream is the best eye cream for men as it is enriched with a de-puffing complex that cools your under eye area for a refreshing sensation!

With so many amazing moisturizers to choose from, you are bound to find at least one that is perfectly suited for your skin type. Hydration is key when it comes to healthy skin so if a daily moisturizer isn't in your skincare routine currently, now is the perfect time to add one! Which face cream will you try first?